Above the law: Bush's IRS defies court order
It's not just at the top; disregard for the law runs rampant at all levels of this Administration.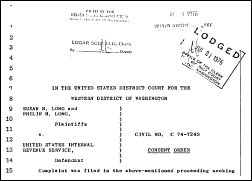 Violating a
court order
that has stood for nearly 30 years, the
Internal Revenue Service
since mid-2004 has knowingly stopped providing detailed statistics about how the agency enforces the nation's tax laws.
A
motion just filed
in the United States District Court for the Western District of Washington attempts to compel the IRS to comply with its 1976 order.
The legal challenge was brought by Susan B. Long, a Syracuse University professor of Management Information and Decision Sciences who has been studying the IRS since she was getting her Ph.D at the University of Washington in the early 1970s. A widely recognized expert on US government data, Long also is the co-director of
TRAC
, which for more than ten years has published a
series of reports
on the performance of the IRS.
Go to
http://trac.syr.edu/foia
to see the press advisory, the motion and the original court order.
TRAC's most recent motion is separate from its still-pending
April 14 lawsuit
filed against the IRS in the District of Columbia. In that action, TRAC charged the agency with illegally withholding selected information about its operations, claiming without substantiation that some of the requested material would compromise homeland security.
TRAC also has FOIA suits pending in court against the Office of Personnel Management and the Executive Office for United States Attorneys. In addition, TRAC has initiated administrative FOIA requests against several agencies in the DHS and the separate Justice Department divisions handling civil and environmental matters.